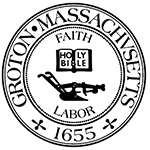 Town of Groton
Meeting Notice
Town Clerk
173 Main Street
Groton, MA 01450
(978) 448-1100
Historic Districts Commission Meeting
Tuesday, June 17 2014 at 7:30 PM
Town Hall: Second Floor Meeting Room, 173 Main Street Groton, MA

This meeting was posted Thursday, June 12 2014 at 3:31 PM
Agenda
Regular Meeting
Tuesday, JUNE 17, 2014
2nd Floor Meeting Room, Town Hall 7:30 PM
Identify members present.
7:30P 128 Main Street: Public hearing Continuation / Joint Meeting with the Planning Board: Application for a Certificate of Appropriateness for construction of the Groton Inn and seven accessory buildings. In addition to the eight buildings (totaling 55,000 sq. ft.) there will be landscaping changes incorporating both soft-scape and hard-scape, as well as new lighting, at 128 Main Street (Assessors Map 113-Parcel 10), Groton, Massachusetts. 128 Main Street LLC presenting; votes may be taken.
8:30P 357 Farmers Row: Groton School-garage, remove all Masonite siding & pine trim where needed-replace replace to match existing; votes may be taken.
Other Business: minutes 1/21/14; 2/25/14; 3/25/14; 4/15/14; 5/20/14; 6/3/14
Meeting posted 06-12-2014 3:30pm npierce
The listing of topics that the Chair reasonably anticipates will be discussed at the meeting is not intended as a guarantee of the topics that will have been discussed. Not all topics listed may in fact be discussed, and other topics not listed may also be brought up for discussion to the extent permitted by law.