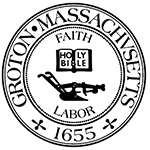 Town of Groton
Meeting Notice
Town Clerk
173 Main Street
Groton, MA 01450
(978) 448-1100
Historic Districts Commission Meeting
Tuesday, November 19 2013 at 7:30 PM
Town Hall: Second Floor Meeting Room, 173 Main Street Groton, MA

This meeting was posted Thursday, November 14 2013 at 1:34 PM
Agenda
Regular Meeting
Tuesday, NOVEMBER 19, 2013
2nd Floor Meeting Room, Town Hall 7:30 PM
Identify members present.
7:35P: 282 Farmers Row - Groton School Schoolhouse renovation: submittal of some detail sheets re: project; votes may be taken.
7:45P Lawrence Academy campus – Sheedy House garage: informal discussion, Atty.Robert Collins presenting; votes may be taken.
8:00P: 45 Farmers Row (new) Town of Groton Center Fire Station: sign permit application, Janine Lavalley presenting, votes may be taken.
8:10P 239 Main Street: Application(s) for a Certificates of Appropriateness (3): to replace first floor windows; to add 2nd floor egress off the existing deck; and addition of a driveway; Maria & Eric Noyes; votes may be taken.
8:30P 134 Main Street: discussion of handrail request(s), Bob France presenting, votes may be taken.
Other Business: minutes 8/15/13, 8/20/13, 9/3/13, 9/17/13, 10/1/13, 10/15/13
The listing of topics that the Chair reasonably anticipates will be discussed at the meeting is not intended as a guarantee of the topics that will have been discussed. Not all topics listed may in fact be discussed, and other topics not listed may also be brought up for discussion to the extent permitted by law.