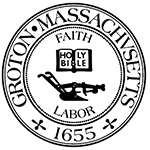 Town of Groton
Meeting Notice
Town Clerk
173 Main Street
Groton, MA 01450
(978) 448-1100
Trails Committee Meeting
Tuesday, January 17 2023 at 7:00 PM
Groton Senior Center, 163 West Main Street Groton, MA

This meeting was posted Thursday, January 12 2023 at 3:04 PM
Agenda
Groton Trails Committee
Meeting Agenda
17 January 2023
7:00 p.m.
Hybrid Meeting: Groton Senior Center Rm 112 and Via Zoom
Chair: Paul Funch
Vice Chair: Wanfang Murray
Clerk: Heidi Charlebois
7:00 Call to Order
7:05 Approval of 20 December Minutes
7:10 Discussions with Applicants for Open Committee Seat
Corey Magliozzi (12/26)
Kiirja Paananen (12/29)
Brittain McKinley (12/30)
James Long (1/9)
8:00 Reports
(8:00) Website and Interactive Map
(8:05) Trail Projects

Chainsawing –Town Forest, Wharton, Priest, Gamlin
Nashua Riverwalk – Status Update and Grant Submissions
Letter of Support for Squannacook River Rail Trail CPA Grant Request
Gamlin Eagle Scout Project – Site Walk
(8:15) Subcommittee Reports

Conservation Forum – Invitations, Volunteers
Destination Groton - Legge
Mapping/Website Management – Peregoy
8:30 Discussion
(8:30) Stewardship Committee Request for Comments on QR Signs Plan
(8:40) Town Policies (Chainsaw, Attendance)
(8:45) Annual Report
9:00 Adjournment
The listing of topics that the Chair reasonably anticipates will be discussed at the meeting is not intended as a guarantee of the topics that will have been discussed. Not all topics listed may in fact be discussed, and other topics not listed may also be brought up for discussion to the extent permitted by law.