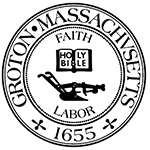 Town of Groton
Meeting Notice
Town Clerk
173 Main Street
Groton, MA 01450
(978) 448-1100
Montachusett Metropolitan Planning Organization Meeting
Wednesday, December 21 2022 at 1:00 PM
Other: See Agenda, Specified in Agenda ,

This meeting was posted Wednesday, December 14 2022 at 10:26 AM
Agenda
MONTACHUSETT METROPOLITAN PLANNING ORGANIZATION (MPO) MEETING
WEDNESDAY, December 21, 2022
1:00 PM
This Meeting Will ONLY Be Conducted Remotely Via GoToMeeting.com
Participants must register for this meeting in order to receive connection information. Please see below for
registration and connection information.
AGENDA
I. Introduction 1:00 p.m.
II. Public Comments 1:05 p.m.
III. Approval of November 16, 2022 Minutes 1:10 p.m.
IV. Statewide Long Range Transportation Plan 1:15 p.m.
- Update by MassDOT OTP
V. Montachusett FFY 2023-2027 Transportation Improvement Program (TIP) 1: 30 p.m.
- Review of Comments on Draft Amendment #2 to the Transit Element
- MPO Action Related Amendment #2
- Discussion on Highway TIP Amendment #3
- MPO Action Related to Highway TIP Amendment #3
VI. Montachusett Regional Transportation Plan (RTP) 1:45 p.m.
- Goals, Objectives, Strategies Discussion
- Performance Measures Discussion
VII. Updates 2:05 p.m.
- MassDOT Highway Division
- Transit
- Montachusett Joint Transportation Committee (MJTC)
- Montachusett Regional Planning Commission (MRPC)
VIII. Administrative Matters 2:20 p.m.
- Next MPO Meeting
IX. Adjournment 2:30 p.m.
Cc: City & Town Clerks: Please post this notice pursuant to MA General Laws, Chapter 30A, Section 18-25.
Handouts for the meeting can be found at: MPO December 21, 2022
The listing of topics that the Chair reasonably anticipates will be discussed at the meeting is not intended as a guarantee of the topics that will have been discussed. Not all topics listed may in fact be discussed, and other topics not listed may also be brought up for discussion to the extent permitted by law.