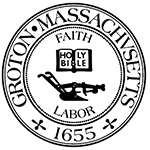 Town of Groton
Meeting Notice
Town Clerk
173 Main Street
Groton, MA 01450
(978) 448-1100
Groton Water Commission Meeting
Tuesday, November 8 2022 at 7:30 PM
Other: See Agenda, Specified in Agenda ,

This meeting was posted Wednesday, November 2 2022 at 11:48 AM
Agenda
Official Notice of a Public Meeting
AGENDA
Board of Water Commissioners
Zoom Meeting
November 8th, 2022 – 7:30 P.M.
7:30 P.M. Call the Board of Water Commissioners Meeting to Order
7:35 P.M. Manganese Treatment Plant – progress update
7:45 P.M. Whitney Pond Well #3 – progress update
8:00 P.M. ARPA Funds – Taylor and Main Street Replacement Project
8:05P.M. PFAS/PFOA in Groton – discussion
8:10 P.M. Superintendent's Operations Overview: Thomas Orcutt
8:15 P.M. Business Manager's Financial Overview: Lauren Crory
8:20 P.M. Other Business: budget, bills, minutes, meeting schedule etc.
(votes may be taken)
Join Zoom Meeting
https://us02web.zoom.us/j/86032929913?pwd=TXBDSjVzT3hkNGtsSysxcFRkcldtQT09
Meeting ID: 860 3292 9913
Passcode: 394477
The listing of topics that the Chair reasonably anticipates will be discussed at the meeting is not intended as a guarantee of the topics that will have been discussed. Not all topics listed may in fact be discussed, and other topics not listed may also be brought up for discussion to the extent permitted by law.