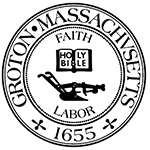 Town of Groton
Meeting Notice
Town Clerk
173 Main Street
Groton, MA 01450
(978) 448-1100
Groton - Dunstable Regional School Committee Equity, Diversity, & Inclusion Advisory Committee Meeting
Wednesday, October 26 2022 at 7:00 PM
Other: See Agenda, Specified in Agenda ,

This meeting was posted Monday, October 24 2022 at 11:29 AM
Agenda
MEETING NOTICE
Meeting Notification Date : 10.24.22
Meeting Date : 10.26.22
Meeting Time : 7:00 - 9:00 PM
Meeting Location : 344 Main St., MSS, Performing Art Center
Meeting Type : JOINT Policy Sub-Committee or Special School
Committee Meeting with Policy Focus /EDI Advisory Committee
1
Anticipated Agenda
2 3
1. Review and discuss the following document drafts from the EDI Advisory
Committee with recommendation to the full School Committee -
Discussion/Vote
a. EDI Advisory Charter
b. EDI Resolution
2. Discussion of Future Agenda Items and Policies to Review for the
2022-2023 School Year
The listing of topics that the Chair reasonably anticipates will be discussed at the meeting is not intended as a guarantee of the topics that will have been discussed. Not all topics listed may in fact be discussed, and other topics not listed may also be brought up for discussion to the extent permitted by law.