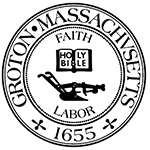 Town of Groton
Meeting Notice
Town Clerk
173 Main Street
Groton, MA 01450
(978) 448-1100
Groton-Dunstable Regional School Committee Meeting
Wednesday, August 24 2022 at 7:00 PM
Performing Arts Center (PAC) at Middle School South, 344 Main St. Groton, MA

This meeting was posted Monday, August 22 2022 at 1:20 PM
Agenda
Groton-Dunstable Regional School District
SCHOOL COMMITTEE MEETING
August 24, 2022 - 7:00PM
Groton-Dunstable Regional Middle School SOUTH - PAC
344 Main Street, Groton, MA
Posted: 8.22.22/1:30 PM
Watch LIVE - https://reflect-thegrotonchannel.cablecast.tv/CablecastPublicSite/watch/1?channel=1
Link to documents - https://www.gdrsd.org/browse/254634
School Committee Meeting

Anticipated1 Agenda2
I. Call to Order
II. Questions/Comments from the Public
III. Presentation
A. HR Update - Justin Williams, Director of Human Resources
IV. Reports
A. Director of Finance & Operations
1.
B. Superintendent
1. New Administrator Introductions
a) Stephen Sierpena - GDRHS Principal
b) Jill Jarvis - Swallow Union Principal
c) Michael Day - GDRMS Assistant Principal
C. Chair
1. Review policy BHC (SCHOOL COMMITTEE-STAFF COMMUNICATIONS)
2. Discuss the intended purpose of liaison updates vs. agenda items, reading statements on
behalf of others.
3. Florence Roche Building Project - update on funding, special town meeting
4. Liaison/Subcommittee Updates
a) Policy
(1) EDI documents
V. Vote to Approve Meeting Minutes - 8.10.22
VI. Vote to Accept Warrant Articles
VII. New Business
VIII. Adjourn
2 Votes may be taken at any time during the meeting.
Note: action items will be handled as business is presented.
Please note: Meeting content, start times and duration are subject to change.
The listing of topics that the Chair reasonably anticipates will be discussed at the meeting is not intended as a guarantee of the topics that will have been discussed. Not all topics listed may in fact be discussed, and other topics not listed may also be brought up for discussion to the extent permitted by law.