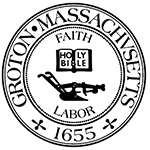 Town of Groton
Meeting Notice
Town Clerk
173 Main Street
Groton, MA 01450
(978) 448-1100
Historic Districts Commission Meeting
Tuesday, October 15 2013 at 7:30 PM
Town Hall: Second Floor Meeting Room, 173 Main Street Groton, MA

This meeting was posted Thursday, October 10 2013 at 8:40 AM
Agenda
7:30P: TOWN OF GROTON-CHAPTER 153 HISTORIC DISTRICTS COMMISSION BY-LAW: PUBLIC HEARING continuation to review revisions to the by-law to be considered at the Fall Town meeting to be held on Monday, October 21, 2013; votes may be taken.
7:45P: 128 Main Street: informal discussion re: possible future development, votes may be taken.
8:00P 134 Main Street / Blacksmith Row: presentation & request for approval of additional construction details for the residence(s) on Blacksmith Row, Bob France presenting, votes may be taken.
Other Business: minutes 8/15/13, 8/20/13, 9/3/13, 9/17/13, 10/1/13
The listing of topics that the Chair reasonably anticipates will be discussed at the meeting is not intended as a guarantee of the topics that will have been discussed. Not all topics listed may in fact be discussed, and other topics not listed may also be brought up for discussion to the extent permitted by law.