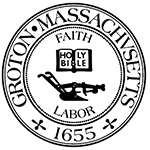 Town of Groton
Meeting Notice
Town Clerk
173 Main Street
Groton, MA 01450
(978) 448-1100
Affordable Housing Trust Meeting
Wednesday, June 1 2022 at 7:00 PM
Other: See Agenda, Specified in Agenda ,

This meeting was posted Wednesday, May 25 2022 at 2:00 PM
Agenda
AGENDA
Date: Wednesday, June 1, 2022
Time: 7 pm
Location: Virtual Meeting via Zoom [Zoom link is for regular session starting at 7:30 pm]
When: Jun 1, 2022 07:30 PM Eastern Time (US and Canada)
Topic: Affordable Housing Trust (webinar)

Please click the link below to join the webinar:
https://us02web.zoom.us/j/82684936649
Executive Session #1 – Pursuant to M.G.L., c.30A, §21(a), Clause 7 – "To comply with, or act under the authority of, any general or special law or federal grant-in-aid requirements" – PURPOSE – Review, Approve and Consider the Release of Executive Session Minutes. Roll call vote may be taken.
Executive Session #2. Pursuant to G.L. Chapter 30A, §21(a), Clause 6 – "To consider the purchase, exchange, lease or value of real property if the chair declares that an open meeting may have a detrimental effect on the negotiating position of the public body." – PURPOSE – town owned properties. Roll call vote may be taken.
7:30 pm Regular Session begins. Review draft regular session minutes from April 13, 2022.
Review May 9, 2022 invoice from Dillis & Roy Civil Design Group for $500 to prepare soil logs on Hoyts Wharf Parcel.
Review May 9, 2022 invoice from Mirick O'Connell for $292.50 for Fieldstone Drive legal advice.
Update and discussion of MBTA Communities Multi-Family zoning issue.
Note that a vote may be taken regarding any of the listed agenda items. Roll call votes are required for executive sessions and virtual meetings.
The listing of topics that the Chair reasonably anticipates will be discussed at the meeting is not intended as a guarantee of the topics that will have been discussed. Not all topics listed may in fact be discussed, and other topics not listed may also be brought up for discussion to the extent permitted by law.