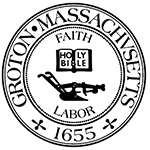 Town of Groton
Meeting Notice
Town Clerk
173 Main Street
Groton, MA 01450
(978) 448-1100
Montachusett Regional Planning Commission Meeting
Thursday, April 7 2022 at 7:00 PM
Other: See Agenda, Specified in Agenda ,

This meeting was posted Friday, March 25 2022 at 8:49 AM
Agenda
MONTACHUSETT REGIONAL PLANNING COMMISSION (MRPC)
THURSDAY, APRIL 7, 2022
7:00 PM
AGENDA
7:00 PM 1. Open Meeting, Introductions and Announcements
7:05 PM 2. Approval of March 3, 2022, MRPC Minutes – Approval of Commissioners Requested
7:10 PM 3. Cash Schedule – March 2022 – Approval of Commissioners Requested
7:15 PM 4. Guest Announcements and Questions
7:20 PM 5. Election of Community Delegates and Alternate Delegates to the Nominating Committee for the
Purpose of Creating a Slate of Officers to Serve on the Executive Committee
Please see Article 2, COMMISSION ORGANIZATION, page 2 of the MRPC's Bylaws, here,
https://www.mrpc.org/sites/g/files/vyhlif3491/f/uploads/mrpc_bylaws_amended_8-01-19.pdf
7:30 PM 6. Administrative Matters
6.1 Outreach to Communities and Partners
6.2 New Funding Update
6.3 Other Administrative Matters Related to Office Operations Under the
Covid-19 Pandemic
All employees are able to continue working remotely or in the office, as needed.
6.4 Lease Agreement between the TOR and the MRPC
7:40 PM 7. Status Report- January through March 2022
8:00 PM 8. New Business
2
This time is being reserved for topics that the chair did not reasonably anticipate would be discussed.
8:15 PM 9. Adjournment
This meeting will be recorded by GoToMeeting app and will be made available for viewing on https://www.youtube.com/user/MontachusettRegion/videos .
This notice is subject to change with reasonable notice provided to all.
The listing of topics that the Chair reasonably anticipates will be discussed at the meeting is not intended as a guarantee of the topics that will have been discussed. Not all topics listed may in fact be discussed, and other topics not listed may also be brought up for discussion to the extent permitted by law.