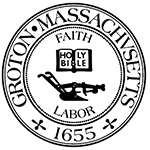 Town of Groton
Meeting Notice
Town Clerk
173 Main Street
Groton, MA 01450
(978) 448-1100
Groton Dunstable School EDI Advisory Subcommittee Meeting
Wednesday, March 16 2022 at 7:00 PM
Other: See Agenda, Specified in Agenda ,

This meeting was posted Monday, March 14 2022 at 1:19 PM
Agenda
Equity, Diversity, & Inclusion Advisory Committee
Laura S. Chesson, Ed.D.
Superintendent of Schools
Please click this URL to join this ZOOM Webinar:
https://us02web.zoom.us/j/87135937937?pwd=QXZPK2RIbzE5OXBndU5LK3VDNlhGQT09
Passcode: 370043
Posted: 3.14.22/1:00 PM
MEETING NOTICE
Meeting Notification Date : March 14, 2022
Meeting Date : March 16, 2022
Meeting Time : 7:00 PM
Meeting Location : ZOOM
Meeting Type : Equity, Diversity, & Inclusion Advisory Committee Focus
1
Anticipated Agenda 2 3
1. Call to Order
2. GDRSD DEI Coordinator - Introductions/Discussion
3. Policy Review - Discussion
a. AC - Nondiscrimination (GDRSD & MASC review)
b. AC-R - Non-Discrimination Policy Including Harassment and Retaliation (MASC policy
review)
c. ACAB - Harassment (GDRSD & MASC review)
d. JICK - Harassment of Students (MASC policy review)
4. Benchmarking EDI Initiatives vs. Other Districts - Updates/Discussion
5. Racial and Social Justice Group Narratives - Updates/Discussion
6. New Business
7. Adjourn
The listing of topics that the Chair reasonably anticipates will be discussed at the meeting is not intended as a guarantee of the topics that will have been discussed. Not all topics listed may in fact be discussed, and other topics not listed may also be brought up for discussion to the extent permitted by law.