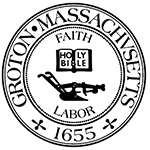 Town of Groton
Meeting Notice
Town Clerk
173 Main Street
Groton, MA 01450
(978) 448-1100
Groton-Dunstable Regional School Committee Meeting
Wednesday, March 9 2022 at 7:00 PM
Other: See Agenda, Specified in Agenda ,

This meeting was posted Monday, March 7 2022 at 12:59 PM
Agenda
Groton-Dunstable Regional School District
SCHOOL COMMITTEE MEETING w/ Executive Session
March 9, 2022 - 7:00 PM
344 Main Street, Groton, MA
Please click the link below to join the ZOOM webinar:
https://us02web.zoom.us/j/85946315529?pwd=cDVuVG1NZmF5UlAreCs3YkpKUmg4QT09
Passcode: 07966
Posted: 3.7.22/1:00 PM
Watch LIVE - https://reflect-thegrotonchannel.cablecast.tv/CablecastPublicSite/watch/1?channel=1
School Committee Meeting w/ Executive Session
Anticipated Agenda
1 2
I. Call to Order
II. Student Representative - Claire Schwartz
III. Presentations
A. Bullying Intervention and Prevention Plan- Jill Greene, Director of Student Services
IV. Reports
A. Superintendent
1. COVID 19 Update
2. Approval for Trip to Track and Field Nationals - Discussion/Vote
B. Chair
1. Certification of Budget - Discussion/Vote
2. Acceptance of $200,000 Gift to the Peter Twomey Youth Center from the estate of Joseph DiPietro -
Vote
3. Liaison/Subcommittee - Updates
a) Policies to Refer to EDI Advisory for Input - Discussion/Vote
V. Questions/Comments from the Public
VI. Vote to Approve Meeting Minutes - 1.26.22, 2.9.22, 2.16.22, 3.1.22
VII. Vote to Accept Warrant Articles
VIII. New Business
IX. Adjourn - Vote to enter into Executive Session for the purpose to discuss strategy with respect to collective
bargaining or litigation if an open meeting may have a detrimental ef ect on the bargaining or litigating position of
the public body and the chair so declares in accordance with M.G.L. Ch. 30A, Sec. 21 a-3 (Unit D) and not to
return to regular session.
The listing of topics that the Chair reasonably anticipates will be discussed at the meeting is not intended as a guarantee of the topics that will have been discussed. Not all topics listed may in fact be discussed, and other topics not listed may also be brought up for discussion to the extent permitted by law.