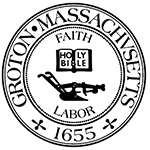 Town of Groton
Meeting Notice
Town Clerk
173 Main Street
Groton, MA 01450
(978) 448-1100
United Cultivation - Community Outreach Meeting
Wednesday, February 9 2022 at 6:00 PM
Other: See Agenda, Specified in Agenda ,

This meeting was posted Wednesday, January 26 2022 at 10:25 AM
Agenda
NOTICE OF COMMUNITY OUTREACH MEETING
UC RETAIL, LLC (A Subsidiary of United Cultivation, LLC)
February 9, 2022 at 6 PM
The Groton Inn, 128 Main Street, Groton, MA 01450
Notice is hereby given that a Community Outreach Meeting for a marijuana retail operation is scheduled for Wednesday, February, 9th, 2022, at 6PM at The Groton Inn (Prescott Room), 128 Main Street, Groton, MA 01450.
The meeting is to discuss plans for a marijuana retail establishment to be located at the 489 Main Street, Groton, MA 01450.
There will be an opportunity for the public to ask questions.
If there are any questions, please contact United Cultivation at 978-866-1154.
The listing of topics that the Chair reasonably anticipates will be discussed at the meeting is not intended as a guarantee of the topics that will have been discussed. Not all topics listed may in fact be discussed, and other topics not listed may also be brought up for discussion to the extent permitted by law.