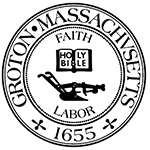 Town of Groton
Meeting Notice
Town Clerk
173 Main Street
Groton, MA 01450
(978) 448-1100
Groton-Dunstable Regional School Committee Meeting - CANCELLED
Wednesday, January 26 2022 at 7:00 PM
Other: See Agenda, Specified in Agenda ,

This meeting was posted Monday, January 24 2022 at 12:51 PM
Agenda
Groton-Dunstable Regional School District
SCHOOL COMMITTEE MEETING
January 26, 2022 - 7:00 PM
Please click the link below to join the ZOOM webinar:
https://us02web.zoom.us/j/81320272010?pwd=WXpkQlZSbnBidStWek9FKzVpOFdKdz09
Passcode: 779210
Posted: 1.24.22/12:00 PM
Watch LIVE - https://reflect-thegrotonchannel.cablecast.tv/CablecastPublicSite/watch/1?channel=1
School Committee Meeting
Anticipated Agenda
1 2
7:00 PM
I. Call to Order
II. Questions/Comments from the Public
III. Presentation
A. Review of Actuarial Report and OPEB Trust - Parker Elmore
IV. Reports
A. Superintendent
1. COVID Update/Including Changes in Testing Procedures
B. Director of Finance
1. Budget Discussion - Capital Plan and Needs
C. Chair
1. Liaison/Subcommittee Updates
V. Vote to Approve Meeting Minutes
VI. Vote to Accept Warrant Articles
VII. New Business
VIII. Adjourn
2 Votes may be taken at any time during the meeting.
Note: action items will be handled as business is presented.
Please note: Meeting content, start times and duration are subject to cha
The listing of topics that the Chair reasonably anticipates will be discussed at the meeting is not intended as a guarantee of the topics that will have been discussed. Not all topics listed may in fact be discussed, and other topics not listed may also be brought up for discussion to the extent permitted by law.