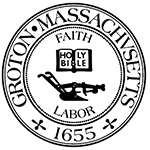 Town of Groton
Meeting Notice
Town Clerk
173 Main Street
Groton, MA 01450
(978) 448-1100
Montachusett Regional Planning Commission Meeting
Thursday, December 9 2021 at 7:00 PM
Other: See Agenda, Specified in Agenda ,

This meeting was posted Monday, December 6 2021 at 1:22 PM
Agenda
1
MONTACHUSETT REGIONAL PLANNING COMMISSION (MRPC) THURSDAY, DECEMBER 9, 2021
7:00 PM
AGENDA
This meeting will be held online.
• Online Attendance
o All potential attendees (Commissioners, MRPC employees and guests) are asked to register prior to the starting time of the meeting (7:00 p.m.) to ensure that all meeting technology will be working properly before the meeting begins.
https://forms.office.com
============================================================
Virtual attendee registration information follows:
1. In accordance with the Open Meeting Law, potential meeting participants can register throughout the duration of a posted public meeting.
2. Registration information will include potential meeting members' name, affiliation, and email address.
3. All persons registering for meeting access will be admitted to the meeting.
4. Registrants will be issued online meeting information via email.
MRPC utilizes GoToMeeting and Zoom for its online meetings. MRPC staff will not be able to provide technical assistance concerning these online meeting platforms. Meeting registrants are urged to download the relevant tele videoconferencing app (GoToMeeting and Zoom) well in advance of all MRPC meetings and to obtain help from the online app websites, provided here for your convenience.
GoToMeeting https://www.goto.com/meeting/join and Zoom https://zoom.us/
==========================================================
2
AGENDA
7:00 PM 1. Open Meeting, Introductions and Announcements
7:05 PM 2. Approval of November 4, 2021, MRPC Minutes – Approvals of Commissioners Requested 7:10 PM 3. Cash Schedule – November 2021 – Approvals of Commissioners Requested
Cash schedule follows on the next page.
3
7:15 PM 4. Administrative Matters
4.1 Update: COVID-19 Office Space Management and Safety – Information
4.2 Update: FY19 Community Development Block Grant, COVID Response Award of
$296,100 to Shirley (Lead community), Lunenburg, Royalston, Townsend, and Westminster –
Information
4.3 Montachusett Enterprise Center, Inc. (MEC) – Information
4.4 Administrative Matters
4.4.1 Housekeeping Editions to the MRPC Personnel Policies and Employee Procedures Handbook – Action of the Commissioners Requested
4.4.2 Flexible Work Locations and Scheduling Policy – Information
4.4.3 American Rescue Plan Act (ARPA) – A New Federal Funding Program for Cities, Towns, Counties, and States
4.5 Other Administrative Matters
4.5.1 Hiring an individual for the Principal Planner Position
4.5.2 New Regional Planner Update
4.5.3 New Regional Planner Update Economic Development Intern Update
4.5.4 Posting of Economic Development Manager and ARPA SLFRF Grant Management and Compliance Director Positions
4.5.5 ARPA SLFRF Update - Presentation and Discussion
4.5.6 Community Progress Towards Affordable Housing in the Montachusett Region - Presentation and Discussion
4.5.7 Lancaster Proposed Mixed-Use Development Project, Presentation and Discussion
8:10 PM 5. Additional Department Updates
5.1 GEOGRAPHIC INFORMATION SYSTEMS (GIS)
5.2 PLANNING & DEVELOPMENT
5.3 TRANSIT & TRANSPORTATION
4
8:25 PM 6. New Business
This time is being reserved for topics that the chair did not reasonably anticipate would be discussed.
8:35 PM 7. Adjournment
This meeting will be recorded by GoToMeeting app and will be made available for viewing on https://www.youtube.com/user/MontachusettRegion/videos .
This notice is subject to change with reasonable notice provided to all.
The listing of topics that the Chair reasonably anticipates will be discussed at the meeting is not intended as a guarantee of the topics that will have been discussed. Not all topics listed may in fact be discussed, and other topics not listed may also be brought up for discussion to the extent permitted by law.