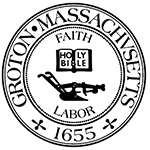 Town of Groton
Meeting Notice
Town Clerk
173 Main Street
Groton, MA 01450
(978) 448-1100
Groton-Dunstable Special Education Advisory Council Meeting
Thursday, December 2 2021 at 7:00 PM
Other: See Agenda, Specified in Agenda ,

This meeting was posted Tuesday, November 30 2021 at 2:26 PM
Agenda
Groton-Dunstable SEPAC Meeting
Dec. 2, 2021
7-8:30pm
Join Zoom Meeting
https://us02web.zoom.us/j/88993699631?pwd=bW5JUC84NVpyK0pnVVFBZE1NSFpuZz09
Meeting ID: 889 9369 9631
Passcode: 927470
I. Welcome and introductions
II. Updates
a. SC update from Kristyn MacInnis
b. DEI Advisory Task Force from Rebecca Thackaberry
c. SEPAC meeting with Jill on 11/18
i. SC budget season starting in Jan. – SEPAC support for staffing
1. Paraprofessional shortage continues
2. Desire a 3rd school psychologist
3. Reading and math specialists positions
ii. DESE's Tiered Focused Monitoring will begin this spring
iii. State IEP Improvement Project has changed course
iv. District working on new bullying plan
v. Andrew Hurley DEI tasks
vi. Marla DeLaCruz conducting a mental health needs assessment
III. Events for this year
a. Need to schedule Federation workshops – Transition and Bullying
b. Inviting administrators to our meetings
c. Reaching out to parents, coffees, etc.
i. Swallow Union meetup at Larter Field 1/30/21
ii. Next?
IV. Approve minutes from 10/28/21 meeting
V. Adjourn
The listing of topics that the Chair reasonably anticipates will be discussed at the meeting is not intended as a guarantee of the topics that will have been discussed. Not all topics listed may in fact be discussed, and other topics not listed may also be brought up for discussion to the extent permitted by law.