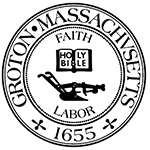 Town of Groton
Meeting Notice
Town Clerk
173 Main Street
Groton, MA 01450
(978) 448-1100
Trails Committee Meeting
Tuesday, November 16 2021 at 7:00 PM
Legion Hall, 75 Hollis Street Groton, MA

This meeting was posted Friday, November 12 2021 at 8:35 AM
Agenda
Groton Trails Committee
Meeting Agenda
16 November 2021
Legion Hall, 7:00 p.m.
**Town of Groton has issued a mask mandate for all gatherings of 2 or more people as of August 16. Please remember to bring and wear a mask at this meeting.**
Chair: Paul Funch
Clerk: Laura DeGroot
7:00 Call to Order
7:00 Approval of 19 October Minutes
7:05 Reports
(7:05) Signs
(7:10) Town Forest Trail Races
7:15 Conversations with Scouts re: Eagle Projects
(7:15) Ryan Fish
(7:30) Catherine Daly
7:45 Reports (continued)
(7:45) Website and Interactive Map
(7:50) Trail Project Reports

Sorhaug Woods – Brooks Orchard Loop trail
Marion Stoddart Riverwalk – DCR Trail Proposal, CPA Funds Application, cost estimating, grants available
McLain's Woods – sidewalk and field
(8:05) Social Media
(8:10) Groton Herald column
8:15 Discussions
(8:15) Chainsaw Safety Course – 4-5 December, Barrett Park, Leominster
(8:25) 2021 Volunteer(s) of the Year
(8:30) Planning for Town Forest's 100th Anniversary in 2022
9:00 Adjournment
The listing of topics that the Chair reasonably anticipates will be discussed at the meeting is not intended as a guarantee of the topics that will have been discussed. Not all topics listed may in fact be discussed, and other topics not listed may also be brought up for discussion to the extent permitted by law.