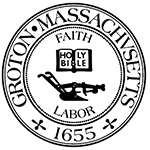 Town of Groton
Meeting Notice
Town Clerk
173 Main Street
Groton, MA 01450
(978) 448-1100
Groton Sewer Commission Meeting
Wednesday, October 20 2021 at 2:00 PM
Other: See Agenda, Specified in Agenda ,

This meeting was posted Monday, October 18 2021 at 7:59 AM
Agenda
AGENDA
Groton Sewer Commission
Virtual Meeting using Zoom
Pursuant to the Governor's Executive Order
Concerning the Open Meeting Law
October 20th, 2021 @ 2:00PM
Join Zoom Meeting
https://us02web.zoom.us/j/82442322475?pwd=eWJwVEhXY3NSSGxrTnordW00b2t3dz09
Call the Board of Sewer Commissioners to Order
Filho's – Grease Report
Review I&I study
Review Nod Road Pump Station and Flow evaluation
500 Main Street

Damaged Vent Pipe Boston Road Extension
436 Main Street
Prescott – Capacity Charges
Indian Hill Music – Plan-review/Construction Discussion
108 Pleasant Street – Sewer Connection
Florence Roche School - Capacity
227 Boston Road/Lindemer– Sewer Connection Update
Discussion of proposed Sewer Commission web site
FY22 & FY23 Budget
Other Business: Bills, Minutes, etc.
Next Meeting Date: October 27th, 2021
The listing of topics that the Chair reasonably anticipates will be discussed at the meeting is not intended as a guarantee of the topics that will have been discussed. Not all topics listed may in fact be discussed, and other topics not listed may also be brought up for discussion to the extent permitted by law.