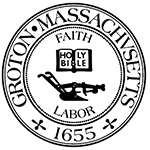 Town of Groton
Meeting Notice
Town Clerk
173 Main Street
Groton, MA 01450
(978) 448-1100
Housing Authority Meeting
Wednesday, July 21 2021 at 7:00 PM
Groton Housing Authority, 19 Lowell Road Groton, MA

This meeting was posted Monday, July 19 2021 at 10:03 AM
Agenda
REGULAR MEETING OF THE
GROTON HOUSING AUTHORITY
BOARD OF COMMISSIONERS
WEDNESDAY, JULY 21, 2021, 7:00 PM
GROTON HOUSING AUTHORITY
19 LOWELL ROAD (CONFERENCE ROOM)
GROTON, MA 01450
ROLL CALL:
PUBLIC COMMENT:
CHECK REGISTER: REVIEW AND APPROVE MAY 2021 CHECK REGISTER
FINANCIAL STATEMENTS
.. REVIEW AND APPROVE APRIL 2021 FINANCIAL STATEMENTS
APPROVAL OF MINUTES:
.. REVIEW AND APPROVE MINUTES FROM THE MAY 19, 2021, REGULAR MEETING
NEW BUSINESS:
.. COVID-19 UPDATE
.. NASHUA ROAD INFORMATION
.. DISCUSS HOUSING SUMMIT
OLD BUSINESS:
.. FORMALLY WELCOME JOHN SOPKA TO OUR BOARD
.. UPDATE ON FAMILY UNITS' PORCH AND DOORS PROJECT
OTHER BUSINESS AS NEEDED:
ADJOURN:
The listing of topics that the Chair reasonably anticipates will be discussed at the meeting is not intended as a guarantee of the topics that will have been discussed. Not all topics listed may in fact be discussed, and other topics not listed may also be brought up for discussion to the extent permitted by law.