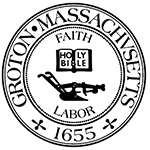 Town of Groton
Meeting Notice
Town Clerk
173 Main Street
Groton, MA 01450
(978) 448-1100
Montachusett Metropolitan Planning Organization Meeting
Wednesday, July 21 2021 at 1:00 PM
Other: See Agenda, Specified in Agenda ,

This meeting was posted Monday, July 19 2021 at 7:51 AM
Agenda
MONTACHUSETT METROPOLITAN PLANNING ORGANIZATION (MPO) MEETING
WEDNESDAY, July 21, 2021
1:00 PM
This Meeting Will Be Conducted Remotely Via GoToMeeting.com
Connection information is below.
AGENDA
I. Introduction 1:00 p.m.
II. Public Comments 1:05 p.m.
III. Approval of May 19, 2021 Minutes 1:10 p.m.
IV. Montachusett FFY 2021-2025 Transportation Improvement Program (TIP) 1:15 p.m.
- Review and Discussion of Potential Amendment to FFY 2021
- MPO Action Related to Potential Amendment
V. RAISE Applications 1:30 p.m.
- Review of Applications Submitted in Response to RAISE Grant Opportunity
VI. ADA Public Right of Way (PROW) Surveys Data Collection Application 1:40 p.m.
- Review and Demonstration of Various Components of PROW App
VII. Northern Tier Rail Study 1:55 p.m.
- Discussion Related to Initial Study Meeting
VIII. Updates 2:05 p.m.
- MassDOT Highway Division
- Transit
- Montachusett Joint Transportation Committee (MJTC)
- Montachusett Regional Planning Commission (MRPC)
IX. Administrative Matters 2:15 p.m.
- Next MPO Meeting
X. Adjournment 2:20 p.m.
Cc: City & Town Clerks: Please post this notice pursuant to MA General Laws, Chapter 30A, Section 18-25.
The listing of topics that the Chair reasonably anticipates will be discussed at the meeting is not intended as a guarantee of the topics that will have been discussed. Not all topics listed may in fact be discussed, and other topics not listed may also be brought up for discussion to the extent permitted by law.