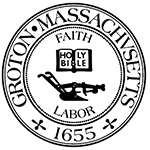 Town of Groton
Meeting Notice
Town Clerk
173 Main Street
Groton, MA 01450
(978) 448-1100
West Groton Water Supply District Meeting
Tuesday, June 15 2021 at 7:00 PM
Other: See Agenda, Specified in Agenda ,

This meeting was posted Wednesday, May 26 2021 at 3:09 PM
Agenda
West Groton Water Supply District
Tuesday, June 15, 2021 at 7 pm
Location: 305 Townsend Rd., West Groton, MA (West Groton Water Supply District Office)
Due to the public health emergency, this meeting shall be held outdoors. In the event of inclement weather, this meeting may be postponed to a later date. Please look for updates on the District website (www.westgrotonwater.org).
Meeting of all qualified voters in said District to:
Article I: To choose a moderator
Article II: To hear and act on the Report of the Water Commissioners.
Article III: To elect a Clerk and Audit Firm for one year and One Water Commissioner for three years.
Article IV: To appropriate such sums of money as may be necessary to defray the expenses of the District for hte ensuing year, and to act on the budget of $888,268.50 of the Water Commissioners.
Article V: To see if the District will vote to include all real estate within its limits, for which a duly signed petition/application has previously been addressed to the Commissioners.
The listing of topics that the Chair reasonably anticipates will be discussed at the meeting is not intended as a guarantee of the topics that will have been discussed. Not all topics listed may in fact be discussed, and other topics not listed may also be brought up for discussion to the extent permitted by law.