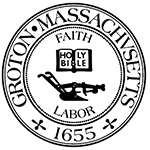 Town of Groton
Meeting Notice
Town Clerk
173 Main Street
Groton, MA 01450
(978) 448-1100
Housing Authority Meeting
Wednesday, May 19 2021 at 7:00 PM
Other: See Agenda, Specified in Agenda ,

This meeting was posted Monday, May 17 2021 at 10:36 AM
Agenda
REGULAR MEETING OF THE
GROTON HOUSING AUTHORITY
BOARD OF COMMISSIONERS
WEDNESDAY, MAY 19, 2021, 7:00 PM
VIA GO TO MEETING
https://global.gotomeeting.com/join/922908285
You can also dial in using your phone: Toll Free 1 877-309-2073
ACCESS CODE: 922-908-285
ROLL CALL:
PUBLIC COMMENT:
CHECK REGISTER: REVIEW AND APPROVE APRIL 2021 CHECK REGISTER
FINANCIAL STATEMENTS
.. REVIEW AND APPROVE JANUARY 2021 FINANCIAL STATEMENTS
.. REVIEW AND APPROVE FEBRUARY 2021 FINANCIAL STATEMENTS
.. REVIEW AND APPROVE MARCH 2021 FINANCIAL STATMENTS
APPROVAL OF MINUTES:
.. REVIEW AND APPROVE MINUTES FROM THE APRIL 21, 2021 REGULAR MEETING
NEW BUSINESS:
.. COVID-19 UPDATE
.. NASHUA ROAD INFORMATION
.. DISCUSS AND APPROVE FORMULA FUNDING AWARD FROM JUNE 30, 2022 TO JUNE 30, 2024
.. DISCUSS WITH BOARD PER DIEM OFFICE HELP THAT EXECUTIVE DIRECTOR IS USING
OLD BUSINESS:
.. BOARD MEMBER SEARCH
.. UPDATE ON FAMILY UNITS PORCH AND DOORS PROJECT
OTHER BUSINESS AS NEEDED:
ADJOURN:
The listing of topics that the Chair reasonably anticipates will be discussed at the meeting is not intended as a guarantee of the topics that will have been discussed. Not all topics listed may in fact be discussed, and other topics not listed may also be brought up for discussion to the extent permitted by law.