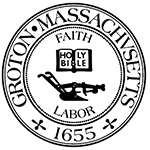 Town of Groton
Meeting Notice
Town Clerk
173 Main Street
Groton, MA 01450
(978) 448-1100
Council On Aging Meeting
Monday, April 12 2021 at 1:00 PM
Other: See Agenda, Specified in Agenda ,

This meeting was posted Thursday, April 8 2021 at 9:39 AM
Agenda
Groton Council on Aging
The Groton Center
163 W Main Street
Groton, Massachusetts 01450
Tel (978) 448-1170
Council on Aging Director, Kathy Shelp
COA BOD
Agenda
Monday, April 12, 2021
@ 1pm
Join Zoom Meeting
https://us02web.zoom.us/j/85464911301?pwd=cWFaVGxUVEJSaHE2RERvYnVvSHBldz09
Meeting ID: 854 6491 1301
Passcode: 953916
• Open Meeting Richard Marton, Chair
• Presentation of Minutes Helen Sienkiewicz, Secretary
• Directors Report Kathy Shelp, Director
o Mission Statement update
o Re-Accreditation
o Vaccine update
o Building needs
o Roof repair update
• Outreach Report Stacey Shepard Jones, Outreach
• Activity/Volunteer Report Kathy Santiago, Activities Coordinator
Note: The agenda shall include a listing of topics that the chair reasonably anticipates will be discussed at the meeting.
The listing of topics that the Chair reasonably anticipates will be discussed at the meeting is not intended as a guarantee of the topics that will have been discussed. Not all topics listed may in fact be discussed, and other topics not listed may also be brought up for discussion to the extent permitted by law.