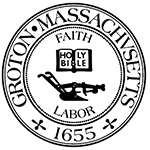 Town of Groton
Meeting Notice
Town Clerk
173 Main Street
Groton, MA 01450
(978) 448-1100
Conservation Commission Meeting
Tuesday, January 26 2021 at 6:30 PM
Other: See Agenda, Specified in Agenda ,

This meeting was posted Thursday, January 21 2021 at 10:25 AM
Agenda
BROADCAST ON ZOOM AND THE GROTON CHANNEL
PURSUANT TO GOVERNOR'S EXECUTIVE ORDER
CONCERNING THE OPEN MEETING LAW
https://us02web.zoom.us/s/85748146698
WEBINAR ID: 857 4814 6698
APPOINTMENTS AND HEARINGS*

6:30 PM – Discussion, Enforcement Order, MassDEP#169-1145, 122 Old Ayer Road (Indian Hill Music Center).
6:40 PM – NOI (cont.), "0" Longley Road, for the construction of a new subdivision, MassDEP#169-1214.
7:00 PM – NOI (cont.), 85 Boathouse Road, for repairs and renovations of existing retaining walls, deck, and parking area, MassDEP#169-1213.
GENERAL BUSINESS*

Review 2020 Town Report
General Discussions

Review Duck Pond 2020 Report
Community Preservation Committee: Review letters of support
Committee Updates
Report on site walk at Patricia Halley Conservation Area

Approve Meeting Minutes
Invoices
Open Session for topics not reasonably anticipated 48 hours in advance of meeting*
Executive Session pursuant to MGL Ch. 30A, Sec. 21(6): * "To consider the purchase, exchange, lease, or value of real estate, if the chair declares that an open meeting may have a detrimental effect on the negotiating position of the public body."
Adjournment
*Votes may be taken
The listing of topics that the Chair reasonably anticipates will be discussed at the meeting is not intended as a guarantee of the topics that will have been discussed. Not all topics listed may in fact be discussed, and other topics not listed may also be brought up for discussion to the extent permitted by law.