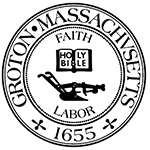 Town of Groton
Meeting Notice
Town Clerk
173 Main Street
Groton, MA 01450
(978) 448-1100
Housing Authority Meeting
Wednesday, January 20 2021 at 7:00 PM
Other: See Agenda, Specified in Agenda ,

This meeting was posted Thursday, January 14 2021 at 10:21 AM
Agenda
GROTON HOUSING AUTHORITY
BOARD OF COMMISSIONERS
WEDNESDAY, JANUARY 20, 2021, 7:00 PM
VIA GO TO MEETING
Groton Housing Regular Board Meeting January 2021
Wed, Jan 20, 2021 7:00 PM - 8:30 PM (EST)
Please join my meeting from your computer, tablet, or smartphone.
https://global.gotomeeting.com/join/ 230639829
You can also dial in using your phone.
United States (Toll Free): 1 877 309 2073
Access Code: 230-639-829
ROLL CALL
PUBLIC COMMENT:
CHECK REGISTERS: REVIEW AND APPROVE NOVEMBER & DECEMBER 2020 CHECK REGISTERS
FINANCIAL STATEMENTS
.. DHCD CONSOLIDATED 4001 PROGRAMS ENDING 10/31/2020, 11/30/2020, & 12/31/2020
.. SANDY POND ROAD PROGRAM ENDING 10/31/2020, 11/30/2020, & 12/31/2020
.. STILL MEADOW PROGRAM ENDING 10/31/2020, 11/30/2020, & 12/31/2020
APPROVAL OF MINUTES:
.. REVIEW AND APPROVE MINUTES FROM THE NOVEMBER 18, 2020 REGULAR MEETING
NEW BUSINESS:
.. DISCUSS AND APPROVE SUPPORT FOR SITE ASSESSMENT STUDY THROUGH THE TOWN OF GROTON AFFORDABLE HOUSING TRUST
OLD BUSINESS:
.. BOARD MEMBER SEARCH
.. COVID-19 UPDATE
.. UPDATE FROM DON BLACK REGARDING NASHUA ROAD PROPERTY
OTHER BUSINESS AS NEEDED
ADJOURN
The listing of topics that the Chair reasonably anticipates will be discussed at the meeting is not intended as a guarantee of the topics that will have been discussed. Not all topics listed may in fact be discussed, and other topics not listed may also be brought up for discussion to the extent permitted by law.