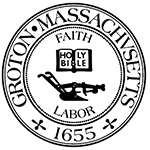 Town of Groton
Meeting Notice
Town Clerk
173 Main Street
Groton, MA 01450
(978) 448-1100
Groton Stewardship Committee Meeting
Wednesday, October 14 2020 at 6:30 PM
Other: See Agenda, Specified in Agenda ,

This meeting was posted Friday, October 9 2020 at 10:47 AM
Agenda
BROADCAST ON ZOOM AND THE GROTON CHANNEL
PURSUANT TO GOVERNOR'S EXECUTIVE ORDER
CONCERNING THE OPEN MEETING LAW

Groton Stewardship Committee Agenda



Time

: October 14, 2020, 6:30 PM to 8:00 PM 



Zoom Meeting




Join Zoom Meeting:

 https://us02web.zoom.us/j/8181175136


Meeting ID: 818 117 5136
Member Introductions and Purpose of Committee
Review of Seven Goals from Open Space and Recreation Plan and Establishment of Initial Priorities:

Promote the preservation of important land resources
Protect water resources
Promote resiliency to climate change and sustain biological diversity
Support local agriculture
Provide Recreational Facilities to meet Groton's needs
Facilitate the shared use of recreation facilities by residents of all ages and interests
Enhance Groton's community identity

Conclusion and Set Next Meeting Date.
The listing of topics that the Chair reasonably anticipates will be discussed at the meeting is not intended as a guarantee of the topics that will have been discussed. Not all topics listed may in fact be discussed, and other topics not listed may also be brought up for discussion to the extent permitted by law.