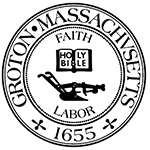 Town of Groton
Meeting Notice
Town Clerk
173 Main Street
Groton, MA 01450
(978) 448-1100
Conservation Commission Meeting
Tuesday, September 22 2020 at 6:30 PM
Other: See Agenda, Specified in Agenda ,

This meeting was posted Tuesday, September 15 2020 at 3:18 PM
Agenda
BROADCAST ON ZOOM AND THE GROTON CHANNEL
PURSUANT TO GOVERNOR'S EXECUTIVE ORDER
CONCERNING THE OPEN MEETING LAW

https://us02web.zoom.us/s/85642400968

WEBINAR ID: 856 4240 0968 


APPOINTMENTS AND HEARINGS*

6:30 PM – RDA (cont.), 136 Hollis Street, for the restoration of a hay field.
6:40 PM – ANRAD (cont.), "0" Gratuity Road, MassDEP#169-(not yet assigned).
6:55 PM – COC (cont.), 54 Ridgewood Road, MassDEP#169-1172.
7:00 PM – Discussion, Squannacook Sportsmen Club Environmental Assassment.
7:15 PM – Discussion, Academy Hill, request for minor change to site plan, MassDEP#169-970.
7:30 PM – Discussion, Enforcement Order, 210 Indian Hill Road
GENERAL BUSINESS*

Land Management

Discuss Fall mowing schedule
Formation of the Stewardship Committee (updates)

Other Discussions

Provide comments to the Planning Board: Village at Shepley Hill, Preliminary Subdivision Plan

Committee Updates/Announcements
Approve Meeting Minutes
Invoices
Open Session for topics not reasonably anticipated 48 hours in advance of meeting*
Adjournment
*Votes may be taken
The listing of topics that the Chair reasonably anticipates will be discussed at the meeting is not intended as a guarantee of the topics that will have been discussed. Not all topics listed may in fact be discussed, and other topics not listed may also be brought up for discussion to the extent permitted by law.