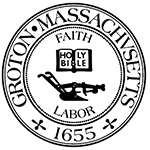 Town of Groton
Meeting Notice
Town Clerk
173 Main Street
Groton, MA 01450
(978) 448-1100
Board of Selectmen Meeting
Monday, August 26 2013 at 6:00 PM
Town Hall: First Floor Meeting Room, 173 Main Street Groton, MA

This meeting was posted Wednesday, August 21 2013 at 2:47 PM
Agenda
BOARD OF SELECTMEN MEETING
MONDAY, AUGUST 26, 2013
AGENDA
SELECTMEN'S MEETING ROOM
1ST FLOOR
GROTON TOWN HALL
6:00 P.M. Executive Session – Town Manager's Office, Second Floor
Pursuant to M.G.L. c. 30A, §21, cl. 3:
"To discuss strategy with respect to collective bargaining or litigation if an open meeting may have a detrimental effect on the bargaining or litigating position of the public body and the chair so declares."
REGULAR SESSION IN SELECTMEN'S MEETING ROOM
7:00 P.M. Announcements and Review Agenda for the Public
I. 7:05 P.M. Town Manager's Report
1. Selectmen's Agenda Schedule
2. Review Budget Memo From Town Manager Concerning Additional FY 2014 Expenditures at the 2013 Fall Town Meeting – Vote May Be Taken
3. Update Board on the Proposed Charges of the Trails Vision Committee and Sargisson Beach Committee
4. Ratify the Following Appointments Made by the Town Manager – Votes May Be Taken
James Luening – Weed Harvester Committee
Christopher Moylan – Assistant Golf Pro – Pool and Golf Center
II. 7:15 P.M. Patricia DuFresne – Senior Work-Off Program – Approve For FY 2014 – Vote May Be Taken
OTHER BUSINESS
SELECTMEN LIAISON REPORTS
III. Minutes: Regularly Scheduled Meeting of July 29, 2013
Regularly Scheduled Meeting of August 12, 2013
ADJOURNMENT
The listing of topics that the Chair reasonably anticipates will be discussed at the meeting is not intended as a guarantee of the topics that will have been discussed. Not all topics listed may in fact be discussed, and other topics not listed may also be brought up for discussion to the extent permitted by law.