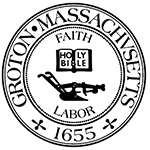 Town of Groton
Meeting Notice
Town Clerk
173 Main Street
Groton, MA 01450
(978) 448-1100
Recycling Committee Meeting
Wednesday, July 29 2020 at 5:30 PM
Other: See Agenda, Specified in Agenda ,

This meeting was posted Monday, July 27 2020 at 8:04 AM
Agenda
Groton Recycling Committee Meeting
Groton Transfer Station. Wednesday, July 29th at 5:30-6:30 pm.
Agenda
Welcome, wear mask and maintain 6 feet apart.
Review prior meeting minutes
Determine and explore addressing Transfer Station collection. Issues the foreman has shared are that some users:
1. Don't pre-sort their waste and end up putting items in the wrong bins
2. Forget to clean items before recycling them. This results in a loss of income because the products are acceptable.
3. Don't adhere stickers in required location on their vehicles.
4. Staff cannot monitor all users' discards for proper placement.
Adjourn
The listing of topics that the Chair reasonably anticipates will be discussed at the meeting is not intended as a guarantee of the topics that will have been discussed. Not all topics listed may in fact be discussed, and other topics not listed may also be brought up for discussion to the extent permitted by law.