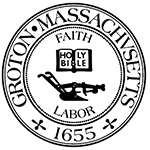 Town of Groton
Meeting Notice
Town Clerk
173 Main Street
Groton, MA 01450
(978) 448-1100
Conservation Commission Meeting
Tuesday, July 14 2020 at 6:30 PM
Other: See Agenda, Specified in Agenda ,

This meeting was posted Thursday, July 9 2020 at 8:00 AM
Agenda
Groton Conservation Commission
Meeting Agenda
Tuesday, July 14, 2020 @ 6:30 p.m.
Virtual Meeting
BROADCAST ON ZOOM AND THE GROTON CHANNEL
PURSUANT TO GOVERNOR'S EXECUTIVE ORDER
CONCERNING THE OPEN MEETING LAW
https://us02web.zoom.us/j/82480898186
(WEBINAR ID: 824 8089 8186)
APPOINTMENTS AND HEARINGS*

6:30PM – RDA, 11 Roxanne Road, for the construction of an above-ground pool (S. Christianson).
6:40PM – RDA, Hayes Woods Conservation Area, for the construction of a trail bridge (D. Pitkin, Groton Conservation Trust).
6:50PM – RDA, Sorhaug Woods, for the stabilization of an existing trail (P. Funch, Groton Trails Committee).
7:00PM – RDA, Sorhaug Woods, for the construction of two new loop trails (P. Funch, Groton Trails Committee).
7:10PM – RDA, 28 Redskin Trail, for the removal of approx. 34 trees (C. Bryne).
7:20PM – RDA, Bertozzi Conservation Area, for the installation of an interpretative model (M. Berg).
7:45PM – RDA, 255 Old Ayer Road, for the installation of a gas line (Boston Gas Company).
8:00PM – NOI (cont.), 111 Wintergreen Lane, for the installation of a swimming pool and pool area landscaping, MassDEP#169-XXXX.
GENERAL BUSINESS*

On-going Business/Other Discussions

Letter from Atty. Collins, re: Hayes Woods (Maple Ave.)
Update: Enforcement Order, 272 Lowell Road (with discussion to occur during July 28 meeting)

Permitting Related Business

Order of Conditions: 67 Gay Road, MassDEP#169-1204
Ratify Emergency Certification for 486 Old Dunstable Road
Certificate of Compliance, 268 Lowell Road, MassDEP#169-XXXX
Certificate of Compliance, Massapoag Pond, MassDEP#169-1045

Land Management

Shattuck Homestead, update on mowing

Committee Updates/Announcements
Approve Meeting Minutes
Invoices
Open Session for topics not reasonably anticipated 48 hours in advance of meeting*
Adjournment
*Votes may be taken
The listing of topics that the Chair reasonably anticipates will be discussed at the meeting is not intended as a guarantee of the topics that will have been discussed. Not all topics listed may in fact be discussed, and other topics not listed may also be brought up for discussion to the extent permitted by law.