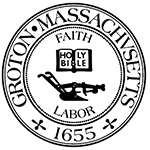 Town of Groton
Meeting Notice
Town Clerk
173 Main Street
Groton, MA 01450
(978) 448-1100
Conservation Commission Meeting
Tuesday, August 13 2013 at 7:00 PM
Town Hall: Second Floor Meeting Room, 173 Main Street Groton, MA

This meeting was posted Thursday, August 8 2013 at 12:02 PM
Agenda
APPOINTMENTS AND HEARINGS
7:15 p.m. – Carl Canner/erosion on Squannacook River
OTHER BUSINESS
Minutes of July 25 and August 5, 2013
Review draft Sargisson Beach Committee charge*
Open Session for topics not reasonably anticipated 48 hours in advance of meeting*
Land management tasks*
*Votes may take place
The following was added Monday, August 12, 2013 4:47 PM
Groton Conservation Commission Meeting Notice
**revised**
August 13, 2013
Town Hall
7:00 p.m.
APPOINTMENTS AND HEARINGS
7:15 p.m. – Carl Canner/erosion on Squannacook River
7:30 p.m. - 78 Maplewood Ave. Notice of Intent DEP#169-1097 continuation*
OTHER BUSINESS
Minutes of July 25 and August 5, 2013
Review draft Sargisson Beach Committee charge*
Open Session for topics not reasonably anticipated 48 hours in advance of meeting*
Land management tasks*
*Votes may take place
Posted: 08-12-2013 4:46pm npierce
The listing of topics that the Chair reasonably anticipates will be discussed at the meeting is not intended as a guarantee of the topics that will have been discussed. Not all topics listed may in fact be discussed, and other topics not listed may also be brought up for discussion to the extent permitted by law.