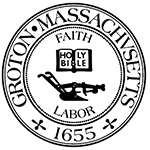 Town of Groton
Meeting Notice
Town Clerk
173 Main Street
Groton, MA 01450
(978) 448-1100
Conservation Commission Meeting
Tuesday, April 14 2020 at 6:30 PM
Other: See Agenda, Specified in Agenda ,

This meeting was posted Wednesday, April 8 2020 at 1:58 PM
Agenda
Groton Conservation Commission
Meeting Agenda
Tuesday, April 14, 2020 @ 6:30 p.m.
Virtual Meeting:
https://zoom.us/j/492285705?pwd=RXhxN2VGUDNOT1dtSGdTWkx6WmZwQT09
APPOINTMENTS AND HEARINGS*
6:30PM – RDA, 255 Cherry Tree Lane, for the installation of a privacy fence (Bergeron).
6:40PM – RDA, 220 Hemlock Drive, for the installation of a seasonal dock (Richards).
6:50PM – RDA, 20 Highland Road, for repairs of an existing retaining wall (Woodle).
7:00PM – RDA, Bates Land & Lawrence, for maintenance of the Bates Land parking area and minor grading at the Lawrence Woods entrance (Groton Conservation Trust).
7:05 PM – NOI (cont.), 4 Alder Road, for the replacement of a sewage disposal system, MassDEP#169-1200.
7:10 PM – RDA, 49 Island Road, for the construction of a deck (G. Rawding).
7:20 PM – NOI, 50 & 52 Island Road, for the replacement of two failing sewage disposal systems, MassDEP#(not yet assigned).
GENERAL BUSINESS*

Certificate of Compliance

135 Mill Street, MassDEP#169-1179.

Order of Condition

4 Alder Road, MassDEP#169-1200

Committee Updates/Announcements
Approve Meeting Minutes

March 10, 2020
March 31, 2020

Invoices
Open Session for topics not reasonably anticipated 48 hours in advance of meeting*
Adjournment
*Votes may be taken
The listing of topics that the Chair reasonably anticipates will be discussed at the meeting is not intended as a guarantee of the topics that will have been discussed. Not all topics listed may in fact be discussed, and other topics not listed may also be brought up for discussion to the extent permitted by law.