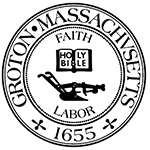 Town of Groton
Meeting Notice
Town Clerk
173 Main Street
Groton, MA 01450
(978) 448-1100
Conservation Commission Meeting
Tuesday, March 31 2020 at 6:30 PM
Other: See Agenda, Specified in Agenda ,

This meeting was posted Thursday, March 26 2020 at 3:04 PM
Agenda
Groton Conservation Commission
Special Meeting Agenda
Tuesday, March 31, 2020 @ 6:30 p.m.
Virtual Meeting
Broadcast on Zoom and The Groton Channel
Pursuant to Governor's Executive Order
Concerning the Open Meeting Law
Administrative Business*

Issue Order of Conditions, 244 Nashua Road, MassDEP#169-1202
Issue Order of Conditions, 128 Martins Pond Road, MassDEP#169-1201
Issue Order of Conditions, 227 Boston Road, MassDEP#169-1199.
Discuss Future Meetings, Public Hearings, and Inspection Protocol
Discuss Conservation Expenditure and FY20/21 Budget
Approve Meeting Minutes – (Feb 25, 2020, March 10, 2020)

Adjournment
*Votes may be taken
The listing of topics that the Chair reasonably anticipates will be discussed at the meeting is not intended as a guarantee of the topics that will have been discussed. Not all topics listed may in fact be discussed, and other topics not listed may also be brought up for discussion to the extent permitted by law.