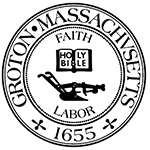 Town of Groton
Meeting Notice
Town Clerk
173 Main Street
Groton, MA 01450
(978) 448-1100
Montachusett Regional Planning Commission Meeting
Thursday, April 2 2020 at 6:30 PM
Other: See Agenda, Specified in Agenda ,

This meeting was posted Thursday, March 26 2020 at 9:01 AM
Agenda
EXECUTIVE COMMITTEE MEETING OF THE
MONTACHUSETT REGIONAL PLANNING COMMISSION (MRPC)
THURSDAY, April 2, 2020
6:30 PM
The agenda follows the GoToMeeting instructions, below (see p. 2).
It is recommended that participants call-in to this meeting versus using the video-conference connection.
If participants have any questions, please contact Jason Stanton at (jstanton@mrpc.org) or Glenn Eaton (geaton@mrpc.org) during MRPC's normal business hours of 8:00 a.m. through 5:00 p.m.
+++++++++++++++++++++++++++++++++++++++++++++++++++++++
MEETING WILL BE HELD REMOTELY
INSTRUCTIONS FOR GO TO MEETING:
Executive Committee of the MRPC Thu, April 2, 2020 6:30 PM - 7:00 PM (EDT)
Please join my meeting from your computer, tablet or smartphone.
https://global.gotomeeting.com/join/640610349
You can also dial in using your phone. (For supported devices, tap a one-touch number below to join instantly.)
United States: +1 (312) 757-3121 - One-touch: tel:+13127573121,,640610349#
Access Code: 640-610-349
New to GoToMeeting? Get the app now and be ready when your first meeting starts: https://global.gotomeeting.com/install/640610349
+++++++++++++++++++++++++++++++++++++++++++++++++++++++
AGENDA
6:30 PM 1. Open Meeting, Introductions and Announcements
6:35PM 2. Executive Director Annual Performance Evaluation
6:55 PM 3. Adjournment
This meeting will be recorded by a Digital Voice Recording device.
The listing of topics that the Chair reasonably anticipates will be discussed at the meeting is not intended as a guarantee of the topics that will have been discussed. Not all topics listed may in fact be discussed, and other topics not listed may also be brought up for discussion to the extent permitted by law.