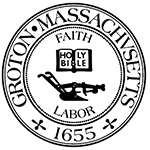 Town of Groton
Meeting Notice
Town Clerk
173 Main Street
Groton, MA 01450
(978) 448-1100
Conservation Commission Meeting
Wednesday, March 4 2020 at 6:30 PM
Town Hall: First Floor Meeting Room, 173 Main Street Groton, MA

This meeting was posted Thursday, February 27 2020 at 1:12 PM
Agenda
Land Management Discussion Items
6:30 PM – Special meeting of the Groton Conservation Commission
This meeting will be a working group meeting to discuss on-going and future land management activities on conservation land. Topics to be discussed include (*):
Newly acquired conservation land:

Trail development updates (Olin, Eileen)
Conservation restrictions for properties purchased with CPA funds (Bruce)
Survey needs and monitoring priorities (Nik)
Conservation area signage

Installing new signs
UPDATE: Conservation area signs for small, unmarked conservation parcels (Marshall, Olin, Larry)

A discussion on active land management (how we manage land and the resources required for managing):

Fire management on public lands – with Chief McCurdy
OSRP 7-year Action Plan

Partnering with other conservation organizations and private landowners
Preservation and/or restoration of agricultural lands

General Discussion

Review and discuss Land Use Regulations
(*) Votes may be taken
The listing of topics that the Chair reasonably anticipates will be discussed at the meeting is not intended as a guarantee of the topics that will have been discussed. Not all topics listed may in fact be discussed, and other topics not listed may also be brought up for discussion to the extent permitted by law.