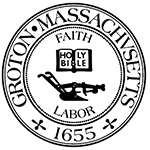 Town of Groton
Meeting Notice
Town Clerk
173 Main Street
Groton, MA 01450
(978) 448-1100
Board of Assessors Meeting
Friday, February 21 2020 at 12:00 PM
Assessor's Office, 173 Main Street Groton, MA

This meeting was posted Wednesday, February 19 2020 at 9:48 AM
Agenda
AGENDA
FRIDAY, FEBRUARY 21st, 2020 – Noon
Town Hall – Board of Assessors Office, 1st floor, 173 Main Street, Groton
Noon OPEN MEETING
12:01 PM ENTER IN EXECUTIVE SESSION TO DISCUSS THE FOLLOWING ABATEMENT APPLICATIONS . Roll call vote to be taken.
828 MARTINS POND ROAD
486 OLD DUNSTABLE ROAD
49 SPENCER CIRCLE
67 RADDIN ROAD
36 FLOYD HILL ROAD
63 BOATHOUSE ROAD
46 REDSKIN TRAIL
245 REEDY MEADOW ROAD
39 ACORN PATH
CLOSE EXECUTIVE SESSION
12:30 PM SIGN INVOICES/EXEMPTIONS & CPA AND EXCISE ABATEMENTS
VOTES MAY BE TAKEN AT ANY TIME DURING THIS MEETING.
NEXT MEETING: 03/06/2020
The listing of topics that the Chair reasonably anticipates will be discussed at the meeting is not intended as a guarantee of the topics that will have been discussed. Not all topics listed may in fact be discussed, and other topics not listed may also be brought up for discussion to the extent permitted by law.