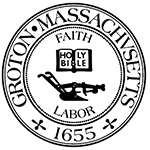 Town of Groton
Meeting Notice
Town Clerk
173 Main Street
Groton, MA 01450
(978) 448-1100
Finance Committee Meeting
Saturday, January 25 2020 at 8:30 AM
Town Hall: First Floor Meeting Room, 173 Main Street Groton, MA

This meeting was posted Tuesday, January 21 2020 at 10:37 AM
Agenda
FINANCE COMMITTEE MEETING
Town Hall, 1st Floor Meeting Room
173 Main Street, Groton, MA
Saturday, January 25th, 2020 – 8:30 a.m.

AGENDA
Meeting Jointly with Select Board
Discussion Topics to include:
FY21 Operating & Capital Budget Review with Department Heads
Specific Budget Topics will include (but are not limited to):
Time Topic
8:30 Library Budget
9:00 DPW Budget
9:45 Country Club Budget
10:15 Debt Budget
10:45 Police Department Budget
11:30 Fire Department Budget
12:15 Other Issues including: Enterprise and Snow & Ice Budgets, FY21 New Budget Items, School Districts, Revenue Update
Other Business:
FinCom meeting schedule February/March
VOTES MAY BE TAKEN
The listing of topics that the Chair reasonably anticipates will be discussed at the meeting is not intended as a guarantee of the topics that will have been discussed. Not all topics listed may in fact be discussed, and other topics not listed may also be brought up for discussion to the extent permitted by law.