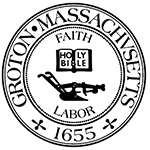 Town of Groton
Meeting Notice
Town Clerk
173 Main Street
Groton, MA 01450
(978) 448-1100
Groton-Dunstable Regional School Committee Meeting
Wednesday, July 24 2013 at 8:00 AM
Other: See Agenda, Specified in Agenda ,

This meeting was posted Thursday, July 18 2013 at 1:54 PM
Agenda
Groton-Dunstable Regional School District
SCHOOL COMMITTEE WORKSHOP
Prescott School Conference Room
Wednesday, July 24, 2013 – 8:00 am to 12:00 pm
Workshop Agenda
8:00 Coffee/Tea/Refreshments
8:15 School Safety and Security
? A.L.IC.E update from Karen Tuomi, Coordinator of District Security
? Safety and Security Audit update from Steve Byrne, Director of Building and Grounds
8:45 Technology Update (Andrew Marcinek)
9:15 Facilities Study: Scope of Work
? Future location of central office
? Capital needs of buildings
9:45 Break
10:00 Discussion of Policy on Religious Holidays (Action)
10:45 Administrative/Business Items
? Suggested Changes in School Committee Agenda Format
? FY13 Closeout/FY14 Final State Aid Allocations
? Next Workshop Dates: August 12 (8-12), August 21????
? MASC/MASS Conference in November
? Superintendent Search:
o Draft schedule (Jeanne Mitchell)
o Review of Screening Committee Policies
? Screening Committees (BDFB)
? Composition of Screening Committee for Superintendent (BDFB E-1)
? Responsibilities of Chair of Screening Committee for Superintendent (BDFB E-2)
? Green Buildings Initiative
? ConnectEd (Andy Marcinek, Jared Stanton)
? Recent Open Session Minutes: 6.12 and 7.10 (Action)
? AP Warrant (Action)
11:30 Executive Minutes/ Review and Approval
12:00 Adjournment
Meeting posted: 07-18-2013 1:53pm npierce
The listing of topics that the Chair reasonably anticipates will be discussed at the meeting is not intended as a guarantee of the topics that will have been discussed. Not all topics listed may in fact be discussed, and other topics not listed may also be brought up for discussion to the extent permitted by law.