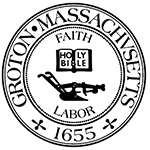 Town of Groton
Meeting Notice
Town Clerk
173 Main Street
Groton, MA 01450
(978) 448-1100
Conservation Commission Meeting
Monday, October 28 2019 at 6:30 PM
Groton Electric, 23 Station Ave Groton, MA

This meeting was posted Thursday, October 24 2019 at 9:06 AM
Agenda
Land Management Discussion Items
Special meeting of the Groton Conservation Commission
This meeting will be a working group meeting to discuss on-going and future land management activities on conservation land. Topics to be discussed include (*):
PLEASE NOTE DISCUSSION TIMES ARE ONLY APPROXIMATE AND MAY NOT BE FOLLOWED EXACTLY DURING THE MEETING.
6:30pm – Current Projects

On-going vegetation management
Trail development & signage

7:00pm – Future Projects

Special projects (e.g., developing accessible trails, OSRP [2019] – Seven Year Action Plan)
Conservation stewardship

Developing stewardship plans for conservation properties
Monitoring in-fee lands and conservation restrictions/easements

7:30pm – Discuss structure, format, future topics, and frequency of these 'land management' meetings
Other topics not anticipated within 48 hours of meeting
Executive Session pursuant to MGL Ch. 30A, Sec. 21(6): * "To consider the purchase, exchange, lease, or value of real estate, if the chair declares that an open meeting may have a detrimental effect on the negotiating position of the public body." This item was added on 10/23/2019.
Adjourn
(*) Votes may be taken
The listing of topics that the Chair reasonably anticipates will be discussed at the meeting is not intended as a guarantee of the topics that will have been discussed. Not all topics listed may in fact be discussed, and other topics not listed may also be brought up for discussion to the extent permitted by law.