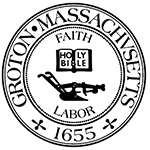 Town of Groton
Meeting Notice
Town Clerk
173 Main Street
Groton, MA 01450
(978) 448-1100
Zoning Board of Appeals Meeting
Wednesday, August 28 2019 at 11:00 AM
Town Hall: Second Floor Meeting Room, 173 Main Street Groton, MA

This meeting was posted Thursday, August 22 2019 at 12:04 PM
Agenda
The following agenda was added or modified on 2019-08-26 08:40:08 by npierce@townofgroton.org.
Zoning Board of Appeals
Agenda Meeting of Wednesday, August 28, 2019 11:00 AM
Town Hall, Upstairs Meeting Room
Executive session to discuss ongoing litigation known as "Lawrence Johnson, et. al v. Bruce Easom as he is a member of the Groton Zoning Board of Appeal, et. al.", Middlesex Superior Court 1481CV06265, to convene at 11:00 AM. A vote may be taken.
Open Session for topics not reasonably anticipated 48 hours in advance of meeting.
If there was previous agenda for this meeting it is below
Roll Call to enter Executive Session under the Open Meeting Law reason #3:
To discuss strategy with respect to litigation if an open meeting may have a detrimental effect on the litigating position of the public body and the chair so declares. Litigation is related to 366 lost Lake Drive, Groton.
The listing of topics that the Chair reasonably anticipates will be discussed at the meeting is not intended as a guarantee of the topics that will have been discussed. Not all topics listed may in fact be discussed, and other topics not listed may also be brought up for discussion to the extent permitted by law.