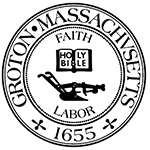 Town of Groton
Meeting Notice
Town Clerk
173 Main Street
Groton, MA 01450
(978) 448-1100
Montachusett Regional Planning Commission Meeting
Thursday, August 1 2019 at 6:00 PM
Other: See Agenda, Specified in Agenda ,

This meeting was posted Tuesday, July 30 2019 at 7:48 AM
Agenda
MONTACHUSETT REGIONAL PLANNING COMMISSION (MRPC) Doyle Center 464 Abbott Avenue Leominster, MA 01453

THURSDAY, AUGUST 1, 2019 6:00 PM

AGENDA

6:00 PM 1. Open Meeting, Introductions and Announcements

6:01 PM 2. Approval of July 11, 2019 Executive Committee Meeting Minutes- Approval Required

6:02 PM 3. Executive Director Review 6:55 PM 4. New Business This time is being reserved for topics that the chair did not reasonably anticipate would be discussed.
6:59 PM 5. Adjournment

This meeting will be recorded by a Digital Voice Recording device.
The listing of topics that the Chair reasonably anticipates will be discussed at the meeting is not intended as a guarantee of the topics that will have been discussed. Not all topics listed may in fact be discussed, and other topics not listed may also be brought up for discussion to the extent permitted by law.